UPDATE: Ryder System Inc. has informed CSS that it is "changing [its] business and service relationship with Stericycle" and that it has now prohibited the medical waste giant from using its trucks to service the abortion industry "in any way, shape or form." Click here to read the official news release.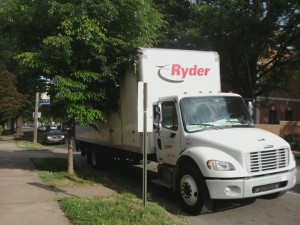 PHILADELPHIA – Campaign to Stop Stericycle (CSS) is blasting the nationally-known truck leasing company Ryder System, Inc. for refusing to stop supplying its vehicles to the nation's leading medical waste company, Stericycle, which is also the premiere "waste" service to the abortion industry. CSS urges a national outcry to Ryder to implore that the truck leasing company cease facilitating Stericycle's widespread involvement in the abortion holocaust.
According to their website, Ryder System Inc. is one of the largest truck leasing companies in the world today and generates nearly 5 billion in annual income. The company leases its trucks to thousands of individuals and corporations each year, as well as the medical waste giant Stericycle. Stericycle then utilizes the vehicles to service its waste collection routes, which include innumerable abortion mills nationwide. During these service stops, not only does Stericycle collect the tools used in abortions, but also the fetal remains of the aborted children themselves. These murdered children are then taken to an incineration plant, where they are burned with the trash. Stericycle relies heavily on leased trucks to be able to collect "waste" from abortion mills, including a reported 586 Planned Parenthood locations nationwide. Consequently, those who supply these trucks to Stericycle are enabling the company's collaboration with those that collectively destroy over 4,000 human lives a day.
Although CSS has contacted Ryder's management on numerous occasions to advise them of Stericycle's sickening usage of their trucks and to exhort the company to stop allowing their vehicles to be used for this purpose, Ryder's executives have refused to listen. In fact, Ryder's Vice President of Corporate Communications, David Bruce, responded to CSS correspondence by stating that the company did not wish to communicate about the matter any further. CSS has been in contact with Ryder's attorney in regards to Stericycle's usage of their trucks, and continues to press the company to cease its participation in the abortion holocaust through its enabling of Stericycle's service to the abortion industry.
Last year, when CSS informed Penske Truck Leasing about Stericycle's usage of their trucks to service an abortion mill in Virginia called the "Richmond Medical Center for Women," the company acted promptly by prohibiting Stericycle from using their trucks across the nation to service the abortion industry. In fact, Penske Truck Leasing President and CEO Brian Hard vowed in an e-mail to the campaign, "We have been, and you have my word that we will continue to be, proactive in stopping Stericycle from using our trucks to service abortion clinics." The following week after Penske's truck was removed from Stericycle's route in Richmond, it was replaced by a Ryder truck. The abortion mill has twice confirmed to CSS that they utilize Stericycle to dispose of the mangled remains of aborted children.
"It is shameful that Ryder has displayed callous indifference to Stericycle's usage of their trucks to collect, transport and incinerate the bodies of aborted children nationwide, and that it continues to regularly profit from Stericycle's blood money," campaign director Michael Marcavage stated. "How repulsive and nauseating it is to think that people across our country are renting Ryder's trucks to move their household belongings and have no idea that the same trucks were used by Stericycle to haul dead babies and bloodied tools used in abortions," he continued. "We urge Ryder to do what is morally honorable and to immediately follow Penske's lead by ceasing to supply the means for Stericycle to service the abortion industry. Ryder and others that help to provide resources to Stericycle to service abortion mills will be met will public resistance until they stop furthering the holocaust of the unborn in our nation," Marcavage concluded.
"My son, walk not thou in the way with them; refrain thy foot from their path, for their feet run to evil and make haste to shed blood." – Proverbs 1:15-16
###
A CALL TO ACTION: Do not let your voice go unheard! CSS exhorts citizens nationwide to contact Ryder System Inc. and politely but firmly express their deep disgust at the company's continued partnership with Stericycle as it pertains to servicing the abortion industry.
Gregory T. Swienton
Phone: (305) 500-3726, Ext. 3441
Email: gregory_t._swienton@ryder.com
Address: 11690 N.W. 105th Street, Miami, FL 33178
Robert D. Fatovic, Chief Legal Officer
Phone: (305) 500-3736, Ext. 7797
Email: bob_fatovic@ryder.com
Address: 11690 N.W. 105th Street, Miami, FL 33178
Sample Text:"I am extremely disturbed that your company continues to allow Stericycle to use your trucks to service the abortion industry. I ask that you stop permitting your vehicles to be leased for this purpose and that you immediately have your trucks removed from all routes that pick up at abortion facilities."