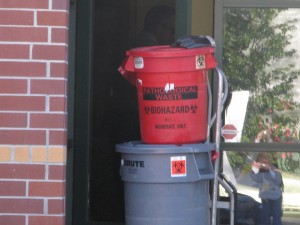 The Campaign to Stop Stericycle (CSS) has gathered a vast amount of evidence that confirms Stericycle's collaboration with the abortion industry. The evidence clearly shows that Stericycle not only disposes of the bloodied linens and syringes used in the murder of unborn children, but also the remains of the aborted children themselves.
CSS has recorded undercover investigations with Stericycle, which have affirmed the company's collection, transportation and incineration of aborted children. We have also obtained documentation from government entities pertaining to Stericycle's service to abortion mills and the contents of the abortionists' "waste." We have researched fetus disposal laws, which demonstrate that abortion mills must have the assistance of medical waste companies like Stericycle to legally operate. Additionally, individuals from across the nation have submitted photographs and video footage of Stericycle in action at their local abortion mill, confirming Stericycle's widespread involvement with the abortion industry.
CSS is deeply grieved by Stericycle's participation in the abortion holocaust, and is working diligently to stop the egregious actions of this medical waste giant. Please click on the links below to view the evidence that we have gathered, and join us in the fight to stop Stericycle and save lives.
Audio
Video
Documentation
Fetus Disposal Laws
Truck Sightings
This page has the following sub pages.