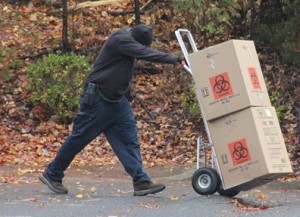 AUSTIN, Texas — The Campaign to Stop Stericycle (CSS) has learned that the medical waste giant Stericycle has been fined over $42,000 for the illegal dumping of aborted babies collected from an abortion facility in Austin.
The Texas Commission on Environmental Quality (TCEQ) has released documents showing that Stericycle has been served with papers by the Enforcement Division, which slam the company with $42,612 in fines for illegally dumping the fetal remains of aborted babies into a municipal landfill. Stericycle has paid $34,090 in a lump sum, and the remainder has been waived contingent upon their future compliance with the law. Click here to view the documents served upon Stericycle from TCEQ.
Stericycle's violations were first discovered in April after an initial investigation was conducted into Whole Women's Health in Austin. Click here to read the news release on the investigation. While Stericycle told the government that its policy is to incinerate fetal remains, it was found that the "waste" service had been autoclaving, or steam treating the aborted babies, and then dumping their bodies into a municipal solid waste landfill with household and commercial trash, which is unlawful under the Texas Administrative Code.
The investigative report, released on June 3rd, outlined that while at the abortion facility:
"It was explained that medical waste is placed in red biohazard bags, then placed into boxes provided by Stericycle. Each fetus resulting from an abortion is placed into a hard plastic container and then into a red biohazard bag. The bag is then placed into a freezer, where it is stored. When Stericycle arrives to transport the medical waste, the individual fetuses are removed from the freezer and placed into another large red biohazard bag. The red biohazard bag containing the fetuses is placed into the medical waste box along with other medical waste generated at the facility that requires treatment. According to facility representatives and the medical waste manifest reviewed, it appears that Stericycle picks up the waste once per week."
Although Stericycle has been denying that it accepts aborted fetal remains for disposal, the information that company representatives provided to the government confirmed the truth.
"I contacted Mr. Joel Barr, Stericycle Austin Autoclave Facility Manager, to inquire about the treatment and disposal methods for fetuses. Mr. Barr informed me that medical waste containing fetuses or tissue should be sent for incineration. … The facility representatives informed me that boxes of waste containing fetuses and/or tissue should be sent for incineration at the Stericycle incinerator in Apopka, Florida. The facility representatives provided me with a copy of their Regulated Medical Waste Acceptance Policy, which they provide to their customers. The facility representatives informed me that Stericycle's company policy requires medical waste generators to label boxes containing non-autoclavable medical waste with 'Incinerate Only' stickers."
After a violation of the law had been established for the unlawful disposal of fetal remains, the case was sent to TCEQ's Enforcement Division to decide the appropriate penalty. Whole Woman's Health of Austin was fined $17,430, which is less than half of what was leveled against Stericycle.
"The large fines slammed against Stericycle demonstrate the severity of its horrifying and egregious actions in treating children like trash," campaign director Michael Marcavage stated. "However, it is not surprising that these violations occurred since those that are involved with the abortion industry are partakers in its evil deeds. Stericycle's claims that it is 'protecting people, reducing risk' are hypocritical, and businesses should be aware of its unethical practices," he added. "We again call upon Stericycle to stop facilitating the abortion holocaust and to clean up its act immediately," Marcavage concluded.
This year, Stericycle was also found to be assisting notorious abortionist Kermit Gosnell, who is now awaiting trial for murder charges. In official court documents released by the Philadelphia District Attorney's Office, it was explained that Gosnell's employees would package the fetal remains for pickup by Stericycle, but that the medical waste giant stopped collecting when the abortionist failed to pay his bills. Gosnell then began stockpiling fetal remains in his freezer, which were later discovered by investigators. Click here to learn more.
"[Y]e have sinned against the Lord, and be sure your sin will find you out." – Numbers 32:23