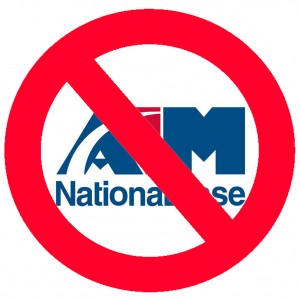 Girard, OH — The Campaign to Stop Stericycle (CSS) has organized an important event outside of the headquarters of the nationally-known truck leasing company Aim NationaLease in Girard, Ohio. The effort, set for early March, will publicly expose Aim NationaLease for its collaboration with the abortion industry and speak up on behalf of the murdered preborn.
Aim NationaLease is one of the multi-million dollar companies that is leasing trucks to Stericycle, the nation's leading medical waste disposal company. Stericycle utilizes the trucks to service its clients, which includes abortion facilities nationwide. After boxes and/or bins of aborted babies and the items used in killing them are loaded onto the trucks, Stericycle transports them to their incineration plants, where they are burned to ash along with tons of medical garbage.
Stericycle depends entirely upon leased trucks to facilitate its collection routes. Consequently, those who supply vehicles to Stericycle are enabling the medical waste giant to collaborate with those who collectively destroy thousands of lives each day.
Aim NationaLease trucks have been documented being used by Stericycle to haul abortion "waste" in Colorado and Illinois. CSS has contacted Aim NationaLease president and owner Thomas Fleming on numerous occasions regarding Stericycle's use of his company's trucks to assist abortionists; however, he has refused to stop Stericycle from utilizing his trucks to service the abortion industry. Please click here to read our recent news release about Fleming's partnership with Stericycle.
Nonetheless, CSS is confident that public outcry can make a tremendous impact. Because of the efforts of CSS and the outrage the public, Penske Truck Leasing, Inc. and Ryder System, Inc. have both prohibited Stericycle from using their trucks to assist abortionists "in any way, shape or form." Idealease affiliates are beginning to also do the same.
"It takes a village to kill a child," campaign director Michael Marcavage stated. "It is shameful that Aim NationaLease and its president Thomas Fleming continue to allow Stericycle to use their trucks to assist those that murder children. As we speak out against this atrocity in Ohio, we will again implore Aim NationaLease to have the ethical fortitude to choose morals over money, and to immediately discontinue this appalling alliance," he added. "Aim NationaLease and Stericycle will remain subject to public resistance until they stop furthering the abortion holocaust in America," Marcavage concluded.
"And have no fellowship with the unfruitful works of darkness, but rather reprove them." – Ephesians 5:11
_____________________________________________________________________________________________________
A CALL TO ACTION: Would you be willing to take a few minutes to participate in this important effort for life? Here's what you can do right now to help be a voice for the voiceless…
1) Please email Aim NationaLease president Thomas Fleming at tfleming@aimntls.com and/or call him at 800-321-9038, Ext. 102 and implore him to not allow Stericycle to use his trucks to assist abortionists. Please leave a message if you receive voicemail.
Sample text: "I am deeply disturbed that you continue to allow Stericycle to use your trucks to service the abortion industry. I ask that you stop permitting your vehicles to be leased for this purpose and that you immediately have all your trucks removed from all routes that pick up at abortion facilities."
2) Please prayerfully consider making a donation of any amount to help cover expenses. Every dollar will be applied directly to the campaign.
3) Please pray that Aim NationaLease will stop Stericycle from using their trucks to haul abortion "waste" and that the abortion holocaust will come to a speedy end in America.