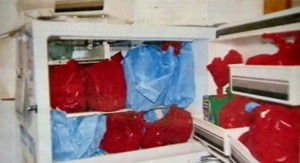 Philadelphia, PA — The Campaign to Stop Stericycle (CSS) is calling for an investigation into the medical waste giant Stericycle surrounding its years of collecting, transporting and incinerating babies killed at the hands of convicted abortionist Kermit Gosnell.
On Monday, in addition to being convicted of three counts of first-degree murder for killing babies born alive, and scores of other charges, Gosnell was found guilty of performing illegal late-term abortions past 24 weeks.
Grand jury documents released by the Philadelphia District Attorney's Office in 2011 revealed that Stericycle had been disposing of fetal remains for Gosnell for years. According to the Grand Jury Presentment, while interviewing Gosnell's employees for the case, it was discovered that staff were assigned the task of preparing the boxes of aborted babies for Stericycle's arrival.
"James Johnson, who worked for Gosnell since 2001, testified that his duties included collecting the red biohazard bags of fetal remains and putting them in boxes for pickup by an outside firm, Stericycle." (Page 32)
The Grand Jury Report, a separate document released by the Philadelphia District Attorney's Office, also stated:
"Sometimes, according to Tina Baldwin, fetal remains were left out overnight. 'You knew about it the next day when you opened the door … Because you could smell it as soon as you opened the door.' According to a plan that Gosnell filed with the Philadelphia Health Department in 2004, waste was to be stored in the basement for once-a-week pickup by a waste disposal company." (Page 47)
However, the presentment also explained, "Johnson told us that in the last two years, Gosnell did not always pay his Stericycle bills." Since Stericycle would not collect the abortion "waste" until payment was received, the fetal remains were packed into freezers until Stericycle resumed its cooperation. In fact, the report stated:
"In the interim, and as the search team discovered during the February 18 raid, freezers at the clinic were full of discarded fetuses…" (Page 47)
Based on the Grand Jury's findings and supporting testimony, everything points to Stericycle as being involved with the disposal of babies killed at Gosnell's abortion facility. Human body parts that are collected by Stericycle in Pennsylvania are hauled to the company's plant in North Carolina (the Stericycle incinerator used for much of the medical waste on the East Coast) to be burned with tons of medical garbage.
During an undercover investigation in 2010, Stericycle sales representative Mara Villalobos told CSS, "You'll get stickers marked for incinerate only. The waste will be incinerated. It will be incinerated, so it will be hauled over to Haw River, [North Carolina]." She also outlined in great detail the packaging protocol for fetal remains. Click here to listen to Stericycle's shocking admissions.
However, as acknowledged by Villalobos, while it is illegal to incinerate third trimester babies in the state, Stericycle never asks about the contents of the boxes. Its waste acceptance policy is treated more like a "don't ask, don't tell" policy when it comes to the contents of the collected medical waste containers. North Carolina law prohibits the incineration of recognizable fetuses and newborn babies.
"Stericycle's willful ignorance of the aborted babies contained in the boxes does not exempt the company from accountability under the law," campaign director Michael Marcavage said. "Furthermore, the collaboration between Gosnell and Stericycle must not be ignored, nor the modern-day Auschwitz that Stericycle continues to operate as it hauls away babies like trash and burns their bodies with tons of medical garbage."
Therefore, just as Stericycle was held accountable in 2011 for illegally dumping aborted babies into a municipal landfill in Austin, Texas, the medical waste giant must be held responsible for any unlawful incineration of babies from Gosnell's abortion facility, as well as the destruction of evidence. Furthermore, it is time that Stericycle be stopped from burning babies altogether, beginning with its North Carolina incineration plant.
"If Gosnell had kept paying his Stericycle bills, who knows what evidence would have been left to convict him," Marcavage stated. "Stericycle was willing to dispose of Gosnell's so-called 'waste' for as long as they were profiting from the abortionist."
CSS is calling upon citizens across the country to contact the environmental protection agencies in both Pennsylvania and North Carolina to demand an investigation, and to request that Stericycle no longer be permitted to burn aborted babies at its North Carolina incineration plant.
"Stericycle must stop facilitating the abortion holocaust in America and cease enabling those who are killing our nation's children to stay in business," Marcavage said. "We will not stop pursuing Stericycle until Stericycle stops collaborating with the abortion industry."
"[N]either be partaker of other men's sins. Keep thyself pure." – 1 Timothy 5:22
_________________________________________________________________________________________________
A CALL TO ACTION: Will you join us in helping to stop Stericycle from treating our nation's aborted children as trash and perpetuating the abortion holocaust in America? Write or call the following and let your voice be heard!
1) Contact Public Information Officer Cathy Akroyd with the North Carolina Department of Environment and Natural Resources at 919-707-8200 or email cathy.akroyd@ncdenr.gov and request an investigation into Stericycle's incineration of late-term and newborn babies at its incineration plant in Graham, North Carolina. Ask that the department revoke Stericycle's incineration permit and enforce all applicable laws.
2) Contact Regional Director Lynn Langer with the Pennsylvania Department of Environmental Protection at 484-250-5900 or email llanger@pa.gov and request an investigation into Stericycle's collection, transportation and incineration of babies killed at Kermit Gosnell's abortion facility.
Leave a Reply